Back to News & Events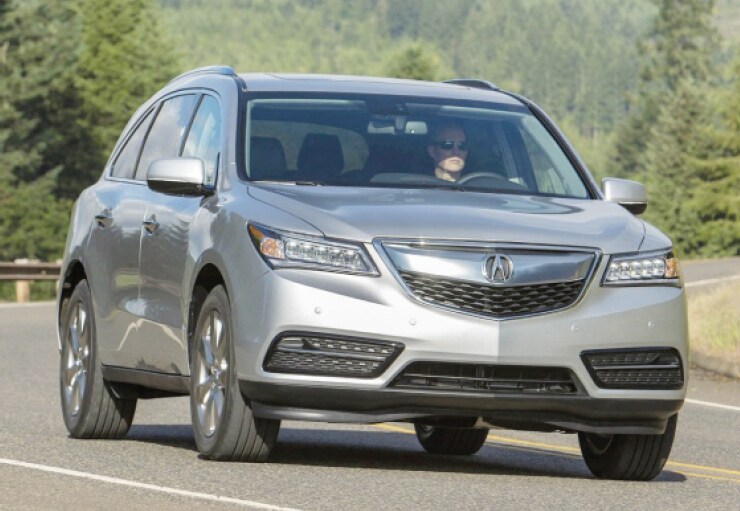 Luxury tall wagons come in many forms and the Acura MDX has consistently been a go-to ever since the first was launched about 15 years ago.
The MDX was all new for the 2014 model year, but that hasn't stopped Honda's premium division from making significant alterations for the 2016 edition that's now on sale.
The updates don't affect the MDX's physical appearance, which is still relatively fresh. A pair of "jewel eye" headlights - five mini lights encased in each headlight pod - has become the signature styling calling card for the Acura brand, along with the equally recognizable "shield" grille.
Likewise the spacious interior remains a familiar spot, although now, for easier access, the driver's seat automatically moves about 3.5 centimetres to the rear when the door is opened.
There's also 15 centimetres of fore and aft travel for the second row. Button clutter on the dashboard and control panel was reduced to nine from 41 when the MDX was last updated, the rest having been incorporated either into a console-mounted dial or included as part of the 20-centimetre touch-screen display for the audio, communications and climate-control systems.
Both the second- and third-row seats can be folded to create a completely flat load floor, which is a much-appreciated attribute that speaks to the detail-sweating nature of the MDX's designers.
Unchanged also is the MDX's 3.5-litre V-6 that produces 290 horsepower and 267 pound-feet of torque.
So what's so different about the 2016 MDX versus the 2015 version? To begin with, Acura has swapped out the six-speed automatic transmission for a nine-speed unit. The transmission, which is reportedly 30 kilograms lighter than the six-speed and delivers faster shifts (by 25 per cent), was first developed for the 2015 TLX, but has since been installed in the RLX sedan as well as the MDX.
The nine-speed surprisingly has no positive impact on fuel economy that remains at 12.7 l/100 km in the city and 9.1 on the highway (12.2/9.1 with idle-stop engine shut-off system).
Acura has also replaced the traditional floor shifter with a series of electronically controlled rocker switches and buttons. Park, Neutral and Drive are engaged by pressing individual buttons, while shifting into reverse involves pulling back on a rocker switch.
The result of this unorthodox change is a de-cluttered floor console and improved access to the storage compartment beneath the control stack.
Another upgrade is the latest version of the MDX's Super Handling All-Wheel Drive system (SH-AWD).
Acura claims the unit's twin-clutch rear differential improves torque transfer to all four wheels when the roads become slippery or when additional power is directed to the outside wheels negotiating turns (called torque vectoring). The SH-AWD is an ideal standard feature for the MDX, considering what kind of trouble it can keep out of.
For 2016, Acura's collision-avoiding AcuraWatch system that can be added to the base MDX that starts at $53,000 (including destination charges). Among its many features is adaptive cruise control with low-speed follow that maintains a safe distance from the vehicle in front, while collision-mitigating braking will bring the MDX to a full stop, if necessary, to avoid a crash.
Also available is road-departure mitigation that helps keep you in your lane as well as from heading off the road entirely. Blind-spot monitoring and cross-traffic alerts also help keep you safe when surrounded by traffic and act as your eyes when backing up. Finally, AcuraWatch adds a multi-view rear backup camera with directional lines to help when reversing into tight spot.
There are numerous non-safety-related items that can be added, such as a navigation, premium audio package, rear-seat entertainment screen and a GPS-linked climate control that varies the cabin temp according to the sun's position.
When it comes to combining luxury and utility, the MDX is Acura's ace in the hole. Continual improvement of the breed keeps it on buyers' radar.
THE SPEC SHEET

Type: Four-door, all-wheel-drive sport utility vehicle
Engine: 3.5-litre DOHC V6 (290 hp)
Transmission: Nine-speed automatic
Market position: Among the numerous seven- and eight- passenger competitors, the MDX remains one of the most popular luxury sport ute/wagons on the market and is a major driving force in Acura's lineup.
Points: Attractive, but in a low-key way. Not any more fuel-efficient than before, despite the new nine-speed automatic transmission. Third-row -seat access remains a tight squeeze. Plenty of top-tier safety features added to the options list, but price increases to match. Standard SH-AWD will be much appreciated by drivers living in wintry regions.
Safety: Front airbags; side-impact airbags; side-curtain airbags; anti-lock brakes; traction control; stability control.
Fuel economy: L/100 km (city/hwy) 12.7/9.1
Base price (incl. destination): $53,000
- See more at:
//www.timescolonist.com/review-acura-s-mdx-still-stands-tall-1.1927029#sthash.QxYDvuGb.dpuf
Date Posted: May 30, 2015