Back to News & Events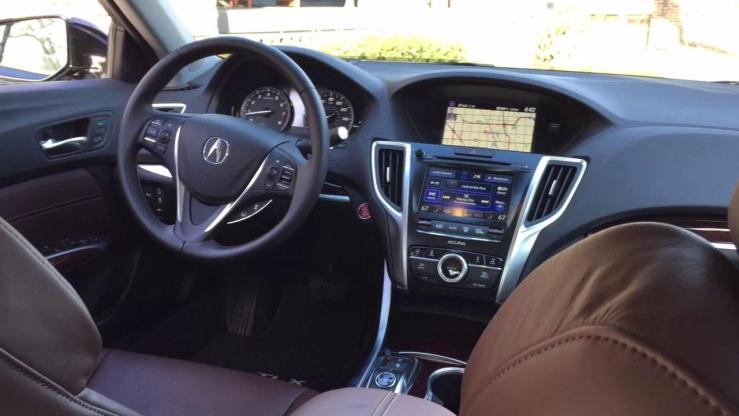 In addition to being the worst crossword answer ever, the three-star 2015 Acura TLX SH-AWD sport sedan is a major step back toward relevance for Acura.
The brand, which Honda launched in the 1980s, invented the Japanese luxury car and built a handful of great ones. Mysteriously, it then checked out for a couple of decades. Acura produced a string of ever less-relevant cars, hitting bottom when its beak-like Angry-Birds grille became a joke.
The TLX's looks, features and price suggest Acura's sabbatical is over.
The new TLX comes in front- and all-wheel drive. It runs with a tough crowd, competing with the Audi S4, BMW 3-series, Cadillac ATS, Infiniti Q50, Lexus IS and Mercedes-Benz C-class.
TLX prices start at $31,445 for a front-wheel drive model with a 206-horsepower 2.4-liter four-cylinder engine and eight-speed dual-clutch automatic transmission. A 290-horsepower 3.5-liter V6 linked to a conventional nine-speed automatic transmission is available starting at $35,320.
Honda's modestly named Super-Handling All-Wheel Drive (SH-AWD) is available with the V6 at prices from $41,575. AWD helps the TLX take full advantage of the engine's power and improves traction in bad weather.
I tested a top-of-the-line TLX SH-AWD with the Tech and Advance option packages. It had adaptive cruise control, lane-keeping assist, perforated leather seats, a power sunroof, LED headlights, voice recognition, Bluetooth phone and audio compatibility, ELS audio, blind spot and cross traffic alerts, remote start and more. It stickered at $44,700. All prices exclude destination charges.
That compares favorably with similarly equipped competitors, for instance undercutting a comparable BMW 335i xDrive by nearly $10,000.
The TLX's V6 is less powerful than the competitors' six-cylinder engines, with the lowest torque and horsepower output in the group. That leads to acceleration that's adequate, but unexciting. The car is a fine highway cruiser, however.
Date Posted: March 26, 2015